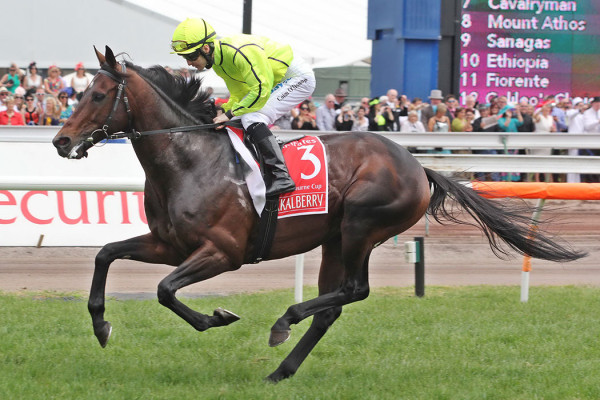 New Zealand Informant,19 Jun 2014 - John Richardson
Breeders should make no mistake about it, JAKKALBERRY, who makes his stud debut at Cambridge's Paxton Park this spring, was a high class internationally proven stayer with an excellent annual Timeform rating of 125.
He is by Storming Home (TFR 128) winner of four Group or Grade One races in England and America including the Newmarket Champion Stakes, but whose stud career was marred by the fact that he stood just four seasons in Britain before his export to Japan, having limited opportunity as a stout staying sire to make his proper mark.
Storming Home shuttled to New Zealand for just the one season in 2006, leaving two stakes winners including the ill-fated top class colt Lion Tamer (Generous, Pompeii Court) and sired nine stakes winners all told. It seems to be quite significant that two of his stakes winners are from Green Desert mares and two from Shirley Heights mares. The latter sire is also the sire of Jakkalberry's third dam.
Jakkalberry was unraced at two and won his first two starts as a three-year-old in Milan before running third in a big field for the Italian Derby and then winning again over 2400 metres from six starts that year. At four after winning the Gr. 3 Milan Premio Ambrosiano first-up, he campaigned only in Group Ones winning the Gran Premio del Jockey Club and finishing a good fifth behind Mastery, Redwood and Americain in the Hong Kong Vase.
At five he followed a similar track with three wins in Italy and was again close up in the Hong Kong Vase behind Dunaden. He stepped up a notch the following year, starting with a pair of good thirds in Dubai including to the stars Cirrus des Aigles and St. Nicholas Abbey in the Gr. 1 Sheema Classic, and followed this with a close up fifth to Sea Moon and Dunaden in the Gr. 2 Royal Ascot Hardwicke Stakes. He then outclassed his opposition in the American St. Leger at Arlington Park over 13 and a half furlongs (2700m).
It was then off to Australia, where he debuted in the Caulfield Cup before finishing third in the Melbourne Cup, producing the run of the race when rattling home with the fastest sectional time of the race just over two lengths behind Green Moon and Fiorente. Jakkalberry then continued his inter-continental travels when again close behind Japanese stars Gentildonna and Orfevre in the Gr. 1 Japan Cup.
He won his only start at seven years, beating a good field in the Gr. 2 Dubai City of Gold Stakes, and did the same again in England at eight over nine and a half furlongs (1900m) to record his twelfth victory from 29 career starts. He was rated champion British male stayer of 2012 and champion older male in Italy for 2010 and 2011.
His sire Storming Home is a son of that influential Mr. Prospector horse Machiavellian, whose granddam is a half-sister to Northern Dancer. The damsire of Jakkalberry is Barathea (Sadler's Wells), whose 81 stakes winners (six at elite level) include Tobougg and VRC Salinger Stakes winner Easy Rocking. Law Society the sire of the granddam, also left six elite winners among his 45 stakes winners, and nicked particularly well with Northfields.
Storming Home is sex-balanced inbred to Mr. Prospector 2 x 3, and similarly line-bred to Native Dancer, Natalma and Nasrullah. Both his sire and dam are sex balanced line bred to Native Dancer with Machiavellian 3 x 4 and Try to Catch Me 4 x 4.
Try to Catch Me and Storming Home are both bred on the time honoured nick between Mr. Prospector and Northern Dancer. The damsire Shareef Dancer is bred on the Northern Dancer nick with Sir Ivor, one which, whilst rare in the north, is very successful in Australasia. Zabeel and Thorn Park are two of many obvious examples which combine in Ocean Park. Storming Home's granddam, the top flight mare It's in the Air, is sex-balanced inbred to Nasrullah and his three parts brother Royal Charger.
Jakkalberry's Irish-bred dam Claba di San Jore won over 2000 metres in Milan and has been a sensational broodmare, leaving four stakes winners, three of them at Group One level. The others are Italian Derby winners Awelmarduk (Almutawakel) and Crackerjack King (Shamardal), the latter also winning the Gr. 1 Premio Presidente della Republica. The female line is full of high quality stakes winners, including the likes of Footstepsinthesand, Power, Cerreto and December Draw, also the successful New Zealand sire Crest of the Wave.
Claba di San Jore is bred on the hugely successful stamina nick between Sadler's Wells and Shirley Heights. The female line has been very successful for a number of generations, with fifth dam Crenelle being balanced line-bred to Malva (her fourth dam).
The dam of Blenheim, His Grace and King Salmon and ancestress of Summertime, Malva is balanced line-bred to St. Simon's sire Galopin and appears in the common presences of Mahmoud, Donatello and Nasrullah through Blenheim. In fact the whole bottom part of the pedigree is saturated with the blood of St. Simon and his sister Angelica. Claba di San Jore is balanced line-bred to Polynesian and Princequillo.
Jakkalberry himself is sex-balanced line-bred to Native Dancer (5/6/6/6 x 6), Hoist the Flag (5 x 5), Natalma (5/5 x 5), Polynesian (6 lines), Nasrullah (7) and his sire Nearco (15), and Bull Dog. In planning matings, female lines of Northern Dancer, Hail to Reason, Sir Gaylord, Turn-to, and Royal Charger might be sought, also Raise A Native, Royal Charger, Sadler's Wells (also Fairy King, Nureyev), Alleged and Mill Reef, whilst male lines of Halo, Sir Ivor, Tom Fool, Bold Reason (Sound Reason), Habitat, Prince John, Boldnesian, Caro, Crepello and Sicambre might be beneficial.
It is a common characteristic of almost all great sires that the layout of their pedigrees gives them every chance of finding something to combine well with in a wide variety of mares. Sir Tristram is a very good example of this phenomenon, and O'Reilly is another. Whilst it is no guarantee of sire success, Jakkalberry has an excellent pedigree, with a wide choice of patterns and sex-balanced concentrations which should afford very many broodmares to be suited to him for many differing reasons.
Most obviously, and not easy to research, the presence of such a strong concentration of St. Simon, Angelica and their sire Galopin in the bottom quadrant lends itself to gelling with pedigrees with strong presences too, for instance through Teddy, Tracery, Rabelais, Nearco or Rock Sand, and indeed many others.
Common major influences that have the potential to combine well with Jakkalberry through their general bloodlines include Danehill with his both sexes double of Natalma plus Ribot and Buckpasser; A P Indy with a strong background including Nasrullah, Princequillo, Blenheim, La Troienne; Green Desert with Sir Ivor and Never Bend females; Flying Spur (Danehill q.v.) with Mr Prospector, Northern Dancer and Sir Ivor females; also for a variety of reasons Seattle Slew, Secretariat, Kingdom Bay, Royal Academy, Tale of the Cat, Silly Season, Kingmambo etc.
I like potential matings with mares by Encosta de Lago, Gold Brose, High Chaparral, Al Akbar, Darci Brahma and Elusive City (these last two especially appeal), O'Reilly (his strong Nasrullah/Princequillo nick will go well), Thorn Park (has Northfields who nicks well with Barathea), Bachelor Duke (I think he could be a major broodmare sire and he goes well), One Cool Cat (his fizz might light up the dourer stallion), Personal Escort, Postponed and Shinko King (very good with female Alleged, Fairy King and a Northern Dancer daughter).
Others I gave a second look were Bertolini, Black Minnaloushe, Duelled, His Royal Highness, Keeper, King's Chapel, My Halo, Pentire, San Luis, Stravinsky, Van Nistelrooy, Volksraad, Yamanin Vital, Guillotine and Montjeu, Sakhee's Secret and Iffraaj – all have one or more good reasons for consideration.
Jakkalberry is just the sort of horse we seem to have been lacking in recent years and mated correctly with some injection of faster mares he could become a successful sire of classic and cup horses.