posted on 1 February, 2017
New boy Jakkalberry makes a big hit at Karaka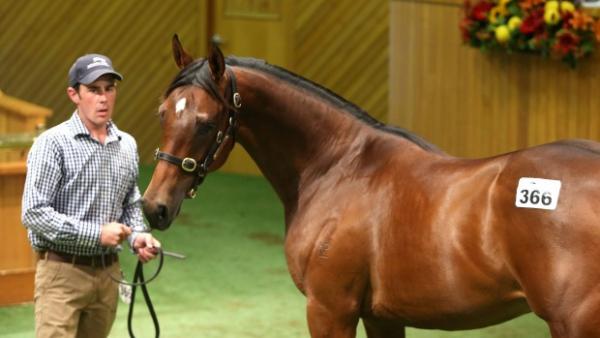 Novara Park studmaster Ray Knight had no idea what to expect when he sent Lot 366 into the Karaka auction ring on Tuesday.
He had a good idea when the handsome son of Novara Park's new season sire Jakkalberry left the auditorium after falling to the $440,000 bid of Victorian trainer Jason Warren.
Warren was bidding on behalf of his owner, fellow Victorian John Wheeler.
"Not the John Wheeler," he said in reference to the legendary New Plymouth trainer of the same name. "But the horse ticked all the boxes for us on pedigree and type."
"We liked him as a possible stallion prospect," Warren said. "He reminded us of his father who was such an outstanding horse."
An outstanding stayer, Group I performer Jakkalberry won 12 races and is remembered for his powerful finish for third in a Melbourne Cup.
The Victorians got to know the stallion well, and also the half-brothers of Lot 366, Efficient and Guillotine who performed at the highest level in the state.
Efficient won the Melbourne Cup and Victoria Cup for trainer Graeme Rogerson for owner Lloyd Williams' Macedon Lodge who were underbidders on Tuesday's big, strong upstanding colt out of Refused The Dance.
"We didn't know what to expect when he went in the ring," Knight said. "Jakkalberry is untested, so we didn't know where to pitch him, we really had no idea.
"We knew there were some big players on him, when we got here [Karaka] and the international buyers started coming to look at the Jakkalberry yearlings, we realised they rated him a high class horse.
"This colt was always a standout and everyone's favourite at home."
Novara Park principal Luigi Muollo owned the yearling in partnership with Henk Smit who initially stood Jakkalberry at stud for his first season.
"We think that once they get to three, and to a mile and further we will see them excel," he said. "And all this off a $6,000 service fee.
"We've got some stunning weanlings at home and some nice types to sell in the later sessions."
« Back to news