posted on 8 February, 2022
Staphanos In Demand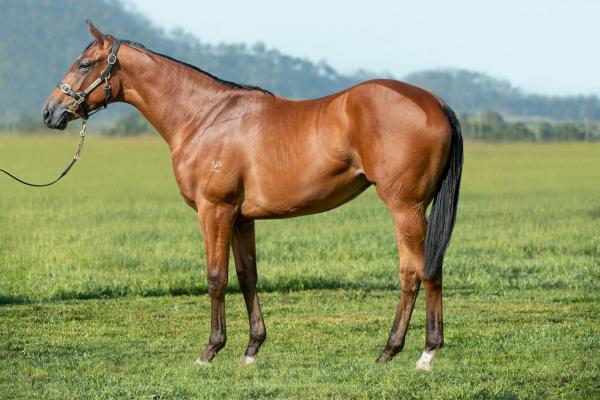 Burgeoning trainer Annabel Neasham was thrilled to yesterday snare the first yearling offered anywhere by the latest son of Deep Impact (Sunday Silence) to hit the sales ring, hoping she may have bought an Oaks filly for a bargain $140,000.
Staphanos – a four time winner and triple Group 1 runner-up in Japan and Hong Kong who earned an invitation to the Cox Plate (Gr 1, 2040m) – began stud duties in 2019 at New Zealand's Novara Park, unusually, for this part of the world, as an eight-year-old.
Stud owner Luigi Muollo, who bought the entire with his brother Tony, opted to present this one Staphanos yearling at Inglis Classic, through the KBL Thoroughbreds draft, putting the stallion in the public eye ahead of a larger spread of 23 yearlings by him at Karaka next month.
The move was shrewd in more ways than one. The bay filly is out of the unraced Micro Explosive (Ekraar), a mare from Novara's flagship female family and sister to the dam of Explosive Jack (Jakkalberry), well known in Australia as the winner of three derbies here last year.
And Muollo couldn't have selected a more impressive type to send across the Tasman.
Neasham, yesterday's second-busiest buyer with six purchases, was first taken by the scopey filly's looks, then doubly pleased to see a class Japanese sireline blending with exceptional New Zealand staying blood. Second dam Explosive (Exploding Prospect) not only threw the dam of Explosive Jack in Extra Explosive (herself a stakes winner), but she is also the granddam of New Zealand Derby (Gr 1, 2400m) winner Vin De Dance (Roc De Cambes).
"I loved how the filly looked, first and foremost," Neasham told ANZ Bloodstock News. "I ignore the pedigree and see if I like them as a type, and I thought she was very athletic, an extremely good mover – one of the best movers on the complex. 
"Then I looked at the page and saw Explosive Jack there, a three-time derby winner, and Vin De Dance. It's just a wonderful staying pedigree. 
"We've got a lot of sharp, precocious types in the stable, and I was keen to get something we thought we might win an Oaks with. 
"She was one out of the box here possibly, and I did think that hopefully we've bought ourselves an Oaks winner. I'm very excited to get her into the stable. I wasn't sure what price we'd have to pay, but I was pretty happy with what we got her for."
Neasham bought the filly on spec, and had her sold "within an hour".
"My phone didn't stop with people wanting to buy her, which was a surprise because she's from a new sire who's relatively unknown in Australia," she said.
"But she was a very good looking filly. And Japan is pretty much leading the way worldwide with a lot of the breeding. Deep Impact was phenomenal, and he's proving he's got good sons who are doing it at stud as well. 
"Staphanos is a very exciting horse, he was a very consistent racehorse, and it's pretty exciting to get the first one."
Muollo said he was delighted Neasham bought the filly, and pleased with the price, considering Staphanos stands for just NZ$7,000.
"We've provided him at value at that number," said Muollo of the Group 3 winner, who covered 109 mares in his first season.
"The most amazing thing about him is he was in Japan's top-10 rated horses at three, four, five and six. I don't think any other horse there has done that in recent times."
Staphanos was placed in five 2000-metre Group 1s in total, running second once to Kitasan Black (Black Tide) and third twice behind Maurice (Screen Hero), both of whom were winners of Japan's Horse of the Year award.
"It was nice to get the first yearling by him away," Muollo said, "and I think she'll be a good filly who'll be a nice mile to 2000-metre horse, and then get the 2400 metres.
"The most amazing thing about her is she was actually probably the youngest filly in the sale, being born on November 14, but already you can see she had plenty of class about her, and I think she'll be a good Classic filly.
"I think she'll continue to blossom, and I'm really happy she's gone to a good trainer."
Not only are Japanese-bred horses renowned for clean wind – a legacy of the country's breeding controls – Muollo believes they are well suited to Australian conditions.
"They're tough horses," he said. "Staphanos had a Timeform rating of 123, but they're quite conservative on their ratings really. In Japan they've always got big fields and the speed is on. They've got big tracks with long, wide straights, so every horse gets their chance. So the Japanese form really stacks up, and you can see why they do dominate around the world."
Rather than being a horse renowned for excelling on the pace in such conditions, it was Staphanos' ability to accelerate which attracted Muollo.
"He was more a turn-of-foot horse, from the mid or rear of the field in all of his races," he said. "So I'm really looking forward to the turn of foot he gives his horses."
Image- Staphanos - Micro Explosive filly 
« Back to news